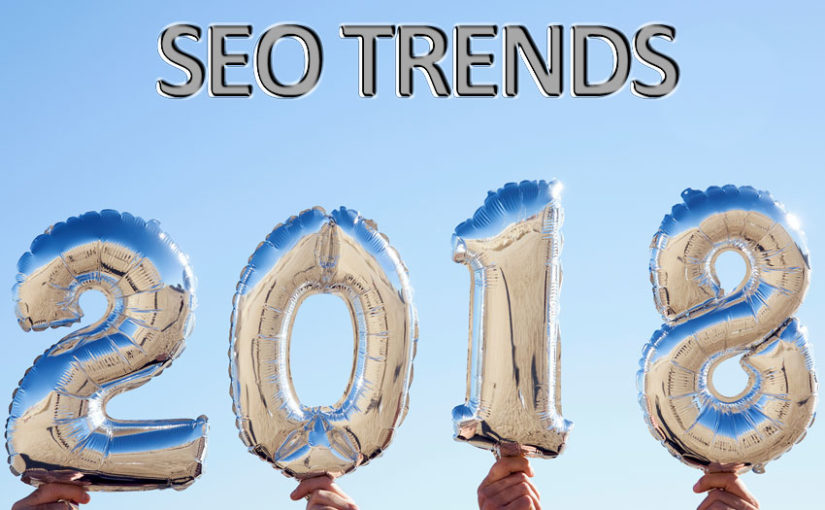 8 SEO Trends Set to Dominate in 2018
Those brave souls who make their living from being Search Engine Optimization (SEO) experts can attest to the fact that the industry is always experiencing dynamic changes. Yesterday's top keywords are today's overused clichés. Added to the challenges for an SEO practitioner, are the constant search engine upgrades and changes that might mean that last year's high yielding strategy needs to be relegated to the trash bin. For SEO strategies to be effective they have to incorporate the latest trends if they wish to keep up with their competitors. Here are 8 of them that are forcing SEO specialists to rethink their strategy for 2018…
Optimizing for voice search keywords.
We're getting used to the idea of barking orders at our digital assistants. We merely ask Alexa, Siri, Cortana, Bixby, Echo, etc., a question/request and then they transcribe the words into the search engine and provide us with results in seconds. What is most important to SEO experts is that the way we use words when we type versus when we speak our requests is vastly different. When we engage in voice search, we use much longer phrases compared to the short keywords we use when typing. Focusing on long-tail keywords will be essential. Keywords will also need to mimic the natural language of a user's conversational tone and word usage.
Voice search SEO is also necessary for local search as visitors to a new area will use their voice search capabilities as a kind of local guide to navigating them around the unfamiliar territory, pointing them to the best restaurants, entertainment, stores, etc.
It is vital not to ignore voice search SEO as about 60.5 million people in the US used a digital assistant in 2017 which translates to nearly 1 in 5 Americans! By 2020 comScore predicts 50% of all searches will be voice driven –around 200 billion searches per month, and mostly conducted from mobile devices and smart speakers.
Image and video visual search engine development. The big search engine giants are spending a lot on developing visual search engines because they know the internet has evolved into a visually-focused experience. Many SEO specialists are not effectively optimizing their visual content to engage the user. We are moving beyond text with users prioritizing visual search to find their products.
Brands will put mobile first.
Mobile internet usage is the number one way that users connect to the web; however, search engines still index desktop versions of websites first. 2018 could be the year where that all changes and they index mobile-first. There has been a huge push to ensure that all websites are mobile-friendly, but if Google starts indexing mobile first, those sites that have not been optimized for mobile are going to be relegated to the dark ages. When Google switches to being a mobile-first search engine, new websites will start with a mobile design with established websites urgently reworking their existing desktop-friendly websites to upgrade their mobile sites. This is your last chance to get super mobile-friendly. In case you remain unconvinced, a study by BrightEdge revealed that over 57% of all web traffic comes from mobile devices. SEO strategies are going to have to cater to how people search on mobile while they are on the go. This is particularly important for local businesses as they seek to attract mobile users to their products and services through local SEO engagement. A mobile-first fueled SEO strategy must include site speed improvement by using features like  Google's Accelerated Mobile Pages.
Link building for quality versus quantity.
There was a time you could get away with ranking high thanks to loads of backlinks to sites with low domain authority. This is no longer the case. Just one link with high domain authority will be much more favorable for Google than a plethora of low domain backlinks. You are looking for links that add value to your site and establish you as a thought leader in your industry. Backlinks, therefore, need to be relevant to your niche. You might need to relook at the practice of using guest posting for your link building strategy as Google is apparently going to be looking closely at this area to control spammy links.
Improving a sites user experience (UX).
Google's key focus is to reward sites that offer a great UX for their visitors. This means load speeds have to be fast, content must be good, should be mobile-friendly and the site architecture easy to navigate. If a visitor arrives at your site and hangs around for only a few seconds before bouncing out of there –Google will register that your UX is not holding the visitor's attention. SEO for UX will need to ensure the visitor has a more personalized experience.
Investing in high-quality content.
Content remains King. It is not enough to have the right density of keywords with the 'correct' number of words and average content to appease the web crawlers. The Google algorithm can now discern quality content, and you have to ensure you maintain well-written content that users will want to read.
Going beyond Google with SEO strategies.
Third party sites like Amazon, Yelp, and the aforementioned digital assistants are becoming powerful search engines that offer ranking opportunities to connect with your target audience. While Google is still the number one search engine, it is wise to increase your influence to the broadest possible audience.
Hyperlocal SEO.
You can now target people who are in seriously close proximity to your business. They could be a mere block away, and you entice them in with 'hyperlocal' targeted keywords.
These are eight trends to interrogate when you are planning your SEO strategy for 2018. They all point to providing users with the most relevant results to suit their buying intentions.  We should start to see the SEO data coming in from 2017 that will show how the predicted trends fared over the course of the last year and if they align with the trends posited for 2018.
These are some of the trends we are utilizing for our clients for their SEO requirements. If you need a jumpstart for your SEO strategy for 2018, give us a call. 281-650-9543