GBC Digital Marketing designs all our websites to be responsive so you do not have a need for a separate mobile website.
Responsive Website Design
GBC Digital Marketing views your website as your online storefront, and an extension of your sales team. Your website should convey your value proposition and have clear calls to action. Your site should be easy for visitors to navigate and offer a great user experience.
Responsive web design is a powerful tool to increase your digital presence while winning customers in the modern age.
Your website should be designed to give your visitors the best user experience possible, no matter what device they're using. You want to leave a lasting impression with visitors on your website so that they return again and again.
There's only one way to achieve that — responsive website design. At GBC Digital Marketing in Houston, our web designers can make it happen.
Get Free Quote
Please fill out the form below and we'll get in touch with you shortly.
What is Responsive Web Design?
Internet users want visually appealing website designs that view just as well on their mobile devices as on their laptops or desktops. When that happens, it's because of responsive web design. Your web design should also factor in various browsers and operating systems to maximize the user experience at all levels.
Without responsive web design, you'd almost have to customize two websites – one that would display well on larger screens like a desktop, and one that would show up well on a mobile screen. But, that's not the right solution, and it doesn't make sense.
Think about it like this. If you take a regular web page on a desktop, it could have columns or other elements that would typically be challenging to view on a mobile device.
An unresponsive website would disrupt the layout on a tablet or phone. This could render a distorted view of the web page or hide some of the columns or other important elements of the web page.
A responsive website works well for all devices.
The design takes every type of device into account. When a website responds well to all devices, it'll automatically adjust the layout for each device so that the content is easy to view and navigate.
Now that mobile phones generate more traffic than other devices, it's more important than ever to have mobile optimization at the core of your responsive web design to keep users engaged.
How do I know if my site has a mobile responsive web design?
There's an easy way to find out how mobile-friendly your website is. Take Google's Mobile-Friendly Test.
All you have to do is enter your website's URL, and it'll analyze your site for free and let you know if your site passes the test.
Why is Responsive Web Design Important?
A responsive web design makes it easier for everyone. Without it, web designers would be working 24/7 to accommodate every eventuality that could occur with every device for every user.
But as a business owner, a responsive design for your website benefits you as well. Once your responsive website is designed, you have everything you need to build up your online presence.
Visitors to your site won't get frustrated. Your website will be easy for them to navigate and webpages will load quickly, no matter which device they use to access your site. You'll connect more with your audience and foster long-term engagements.
The search engines also consider web responsiveness when determining your website's rankings. So responsive web design will also increase your SEO visibility.
It may be worth the investment to consult with a web design company to explore what they can do for your website.
How Our Web Designer Works
We'll learn more about your business, its industry, and your business goals, so we're on the same page about your website needs.
Our web designer will create one site that is optimized and offers the same high-quality viewing experience across all devices. Fonts, words, columns, and images will automatically scale to size, no matter what screen or device the user is using.
For your review, we'll design at least one prototype of what the final design of your website will look like.
The old way of designing for different devices involved redirect links. The links would send users to a different version of the web page. That wasted precious time, risking the loss of a web visitor. Our responsive web design doesn't use redirect links and allows the user to access the web page immediately, no matter what device they're on.
GBC Digital Marketing has facilitated in the launch of hundreds of responsive website designs. We can create a beautiful site for your business with a responsive web design that your visitors will love.
Our web design professionals would love to partner with you for a creative and responsive design solution for your website.
Benefits of Responsive Web Design
Responsive web design offers a superior experience for its users. Let's learn more about the reasons you should be using a responsive web design.
A responsive website design enhances the user experience and reduces bounce rates. A positive user experience is vital for your digital business. Without a responsive website, it wouldn't be possible. Once you get a visitor to your site, you want them there as long as possible. The more they're on your page, the more likely it'll translate into a conversion, meaning a paying customer. An unresponsive website is one reason for high bounce rates, meaning that users navigate away from the site before purchasing anything. When that happens, they usually don't return to the site. High bounce rates are also bad for SEO.
Responsive websites benefit SEO rankings. Google has incorporated website responsiveness into its algorithms. You also stand the chance of attracting high-quality backlinks with a more responsive site, which can also increase your rankings in the search engines.
A responsive design engages more mobile users. And since most Internet users today are mobile users, it makes sense to have a responsive web design so you don't lose potential mobile customers. The more traffic your website has, the more sales you'll have.
You'll save money with a responsive web design. You don't have to worry about creating more than one site to cater to all devices. You'll save in web design fees, and your website will be easier to maintain. You'll also save time, and as they say, time is money.
How's Your Website's Responsiveness?
You can test your website by accessing it from both your desktop and mobile devices, such as your mobile phone and tablet.
Does it adapt well to different sized screens and devices?
Is the quality of your images the same on all screens?
Do the images on your webpages slow down your website?
Do your webpages load almost immediately?
Is the interface of your website adaptable to the capabilities of all devices? For instance, if a user has a touchscreen monitor on their desktop device, will it be usable and accessible on your website?
Will your web pages adapt well to the preferred browsers and settings of its users?
Do you have a visually-appealing layout on all devices?
If your responsive website design misses the mark on any of these web design criteria, it's time to bring your site up to speed.
Our Web Design Company is Ready to Help!
The web designers at GBC Digital Marketing want to help drive your digital growth. We can help you turn your website's users into paying customers. Our responsive web design team has helped businesses of all sizes and industries create stunning, responsive websites.
Our websites are search engine friendly and can increase traffic and leads for your business. Contact us for your next website design project or to learn more about how your business can benefit from a responsive web design.
Responsive Website Design
GBC Digital Marketing is a full service web design and development company that offers much more than just basic web design. Clients select our company because we bring together high quality web design with digital marketing. We can help you generate more revenue with a user friendly web design that converts.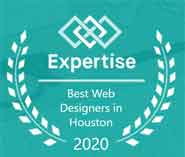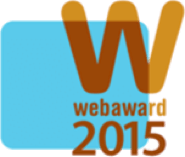 Recent Work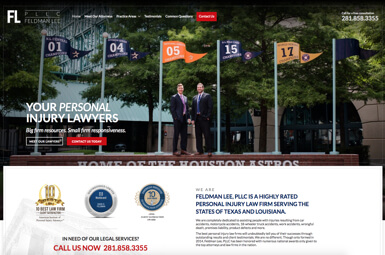 Feldman Lee PLLC
Personal Injury Attorneys Serving the Houston area. Top 10 Law Firm. No-nonsense, aggressive.