Best Jacksonville SEO Experts In Digital Marketing
Local Jacksonville SEO gives you a way to increase your online visibility through proven search engine optimization methods. Our digital marketing agency can help you gain more prominence in search results and increase your sales in the most cost-effective way possible.
Jacksonville SEO Helps You Outrank Your Competition 
We've helped over 1,000 clients expand their online presence and outrank their competition. What do we mean by outranking your competition?
21st-century marketing is all about internet marketing and search engine optimization. More online consumers search for products and services on Google than anywhere else. Where would a potential client find you today if they search for your Jacksonville Florida business or a product or service that you offer?
If it's not on the first Google homepage, you're missing out. Meanwhile, your competition is capturing all those missed leads.
All is not lost, however. SEO success is totally within your grasp. Don't you think it's time to turn the table on your competition?
To get there, you need a customized digital marketing strategy that will bring free, organic traffic to your website. With our Jacksonville SEO company, you'll be able to turn traffic into leads and leads into sales.
How Can I Rank My Website in Jacksonville, FL
It's understandable that you might find it confusing how Jacksonville SEO works to rank your website. Most people who are just beginning in the online marketing world find it a challenge to grasp immediately. We're here to simplify things.
What is SEO?
Let's dive a little deeper into a basic explanation of SEO, or search engine optimization.
As you probably already realize, there are billions of searches every day on Google. Consumers refer to Google for everything, including products and services that may be of interest to them.
In fact, 35% of all product searches start with Google. This brings home the importance of having a search engine optimized website for your business.
But when you think about all the competition you're up against, you have to wonder how to get your business ranked on the first page of search results. And that's a good thing to consider when you realize that many internet searchers never go past the first results page.
Many factors influence your website's ranking in the search engines. These factors are part of Google's search engine optimization algorithm. While Google has kept some of its ranking factors a secret, there are a few known to have a major influence on website ranking.
Technical SEO
If you're building a brand new website for your Jacksonville business, you'll want to make sure your site is built with technical SEO fundamentals in mind. If you already have a website, you'll want to do a technical SEO audit of your site. Problems with technical SEO can wreak havoc on your Google rankings.
Technical SEO services help to evaluate the performance of your website.
There are free and paid tools to help you perform a technical SEO audit on your site. Getting help from an experienced search engine optimization professional can help you nail your site audit. Our Jacksonville SEO company would love to help.
Technical SEO looks for issues like site architecture, duplicate content, crawl errors, broken links, loading speed, mobile readiness, schema, and more. Some of these criteria determine how search engine friendly your site is, while others focus more on how user friendly it is.
A site audit can address critical issues that could be preventing your site from ranking higher.
Web Content
Your website's content is, without a doubt, the most important factor in ranking your site. Google rewards quality content by placing it higher in its index, which typically results in higher placement in the search results.
When a web user searches in Google, the words typed in a search box are akin to keywords. If someone searches for the same keywords your web pages have used, Google matches your pages with a user's query.
The catch is that your web page isn't the only one that will match a query. There can hundred, thousands, and even millions of other pages that have used those keywords. Google retrieves all of the matching content in its index. The more relevant and the higher your web pages are in the index, the more visibility your website will have in searches.
The search engines also look at the structure of your webpages. Google bots look over content to see if there are headers and if the text is formatted so that the content is easily broken down for visitors. The search engine also looks to see how many high-quality links are on a website.
Most importantly, your website's content should have lots of relevant, useful information about things that consumers want to know in your industry.
If you can write tons of content and follow these basic search engine friendly guidelines, you'll have an easier time ranking ahead of your competition.
Mobile Readiness
Today's internet users interact with multiple devices on a given day. People typically use their mobile phones while on the go and their tablet or laptop when they're at home or work.
It's of the utmost importance that your website accommodates its visitors by having a mobile-friendly platform. Mobile readiness means that your web pages will offer the same viewing experience, whether viewed from a cell phone or another device.
Your website should be built so that its pages load quickly and correctly on each device no matter what size screen or operating system your visitors are using to access your site.
Mobile SEO optimization is more critical than ever. Nearly 50% of web traffic comes from mobile devices. Meanwhile, 45% of the e-commerce market is conducted through a mobile phone or tablet.
User Experience or UX
Google has become increasingly more focused on user experience or UX. In 2020, many SEO consultants feel that Google's algorithm is heavily favoring user experience as a top-ranking signal.
Your website's content is a huge factor in user experience. When you create content that web users are searching for, Google notices. When mobile and voice search is part of your search engine optimization process, it heightens the user experience even further, and again, it makes the search engines happy.
Site architecture also factors into UX. Content is one thing, but when users can easily navigate your site and find what they want with ease, both your visitors and Google will love you for it.
Your site's loading speed is also important. Your web pages should load quickly. Otherwise, visitors are likely to navigate away from your site.
Contact our Jacksonville SEO professionals to leverage the power of SEO for your Jacksonville Florida business.
Jacksonville Search Engine Optimization
Our Jacksonville Florida digital marketing agency incorporates a spectrum of search engine marketing strategies to bring optimal SEO results for your business.
Brand Awareness
The way users perceive your brand ultimately factors into SEO. It's considered part of the user experience (UX), of which Google's search engines place high importance.
According to Neil Patel, positive brand awareness is achievable when your website and its contents are findable, desirable, useful, accessible, usable, and credible.
Our Jacksonville SEO services and branding experts can guide you towards a winning brand awareness campaign that will be favored by Google and your website's visitors.
Custom Website Design and Development
Your website is the digital footprint for your Jacksonville business. It's the central place where you'll engage and build trust with potential customers, expand awareness of your brand, showcase your products and services, and generate leads to help your business become more profitable.
First impressions are everything. You have one chance to win your website's visitors over. Your website should be custom-designed to uniquely tell your business's story while delivering the content your visitors are looking for.
Your site should be appealing, user-friendly, accessible, lightning-fast, responsive on all devices, and of course, SEO driven.
GBC Digital Marketing offers customizable designs and solutions to help your business succeed in the online marketing world. Our Jacksonville FL team of creative designers, strategists, and web developers will thoroughly assess your needs to create a unique, sustainable, solutions-driven, and SEO-powered website for your business.
Jacksonville SEO Services
Search engine optimization is vital for any online Jacksonville FL business to succeed. Our Jacksonville SEO services focus on organic search, On-Page and Off-Page SEO, keyword research and optimization, link building, local SEO, and more.
Organic Search
Organic search is at the core of any successful SEO strategy. Unlike paid search like PPC, organic search results are free and are usually the result of having implemented search engine optimization practices. Organic search results are usually based on search query relevance, link building, and other ranking factors.
On-Page SEO
On-Page SEO works to make your website's content more accessible to the search engines. It helps it to understand better what your website is about. The practice involves optimizing your site's web pages to bring more targeted traffic to your website. This is usually accomplished when web pages are ranked higher through successful On-Page SEO campaigns. On-Page search engine optimization caters to the buyer's journey. It includes writing relevant content that your target buyers are searching for, local SEO strategies when applicable, internal linking, and technical SEO.
Off-Page SEO
Off-page SEO utilizes techniques that don't involve optimizing your web content or your website. Instead, optimization strategies that increase your site's authorities make up for Off-page SEO. Websites that become popular and have more authority in their niche and industry tend to be more successful at Off-page SEO. Link building, guest blogging, and brand mentions are a few strategies to increase your site's Off-page SEO.
Local SEO
When your business relies on local customers or your service area is limited, local Jacksonville SEO strategies are needed to ensure that customers find you before they find your competitors. Local Jacksonville SEO leverages the power of standard SEO strategies but uses additional methods to rank your business on Google maps. When customers look for Jacksonville FL businesses like yours, a local SEO game plan will help you appear higher in the local search. Our Jacksonville SEO company is skilled to help you overtake your local competition.
Link Building
Building high-quality hyperlinks, or backlinks, to your website is a huge way to improve your site's visibility in search results. You can link to other high profile sites, or they can link back to you. The latter significantly adds credibility to your website and gets noticed by Google. The search engine's bots will look to see how often someone links back to your site. Some search engine optimization experts feel that link building is the most important ranking signal there is.
Lead Generation
While SEO focuses on getting more traffic to your website, lead generation focuses more on bringing qualified clients for your Jacksonville business. What do we mean by qualified? Qualified leads are clients who are already actively looking for your product or service. While it may have no direct influence on SEO, the two marketing strategies complement each other. Bringing qualified leads to your website optimizes your conversion rates, meaning more customers are likely to buy from you.
Get Booked Leads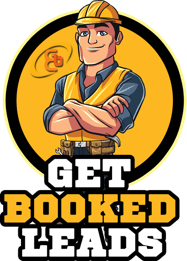 GBC Digital Marketing has created its own proprietary lead generation system called Get Booked Leads. The system works through a dashboard that allows you to manage and automate follow-ups from any leads you secure through your ad campaigns. Our system also sends appointment reminders for any appointments you've set with lead prospects. Our experience has shown that our Get Booked Leads system results in fifteen times more booked appointments and up to 80% higher show rates. The program utilizes a strategy of paid social media ads and paid traffic through Google or even YouTube. The marketing process drives targeted consumers into your business funnel. 
Social Media Marketing
While social media marketing really has no direct influence on ranking factors, it's still a vital part of any effective digital marketing strategy. The two go hand-in-hand. Marketing your Jacksonville business on platforms like Facebook, Twitter, Instagram, and Pinterest can boost traffic to your website. Social media marketing is a great way to increase brand awareness and promote your business. You're able to get immediate exposure and see results sooner than SEO, which focuses on long-term, sustainable growth for your business. It's also a great way to interact with consumers and establish your authenticity.
Pay Per Click Strategies
Search engine optimization is a long-term marketing strategy to help you make your way up in the search engines. Pay per click marketing involves paid strategies that allow you to have more search engine visibility in the short term. While an effective SEO campaign can take months for you to see results, PPC takes just a few minutes to set up. PPC involves targeted ads you can place at the top of the search engines to have immediate exposure for your business. It can result in increased traffic to your website much faster than SEO.
Our Jacksonville firm offers PPC management to help you maximize your ROI, or return on investment. Our SEO experts analyze which keywords are more likely to result in leads and conversions for your online business. PPC is highly effective and allows you to advertise your products and services while having an immediate edge over your competition.
Why is GBC Digital Marketing Best Choice for SEO?
At GBC Digital Marketing, we're focused on you and your business. Our Jacksonville Florida team is brilliant when it comes to helping our clients outrank their competition.
There's a reason our marketing company has won numerous awards as best in our class for our industry. Our full-service SEO solutions come together as a results-driven marketing campaign to bring more qualified leads to your business.
Whether it's a custom web design, search engine optimization, local SEO, social media marketing, our propriety Get Booked Leads system, or PPC strategies, our digital marketing agency can drive more revenue for your Jacksonville company.
There are other Jacksonville SEO companies out there. But we've had 16 years to get it right, and we never stop learning. SEO is a moving target, and our digital marketing professionals keep up with the current trends to deliver the best SEO services for our customers.
Search engine optimization is the heartbeat of your online business, and truth be told, it's ours as well. If you want to increase traffic to your website, bring new leads and conversions for your business, and be seen as the go-to expert in your field, our Jacksonville SEO marketing strategies can make it happen.
Poise your web-based business for success by partnering with us. Our Jacksonville SEO company can make it happen. Contact us today!