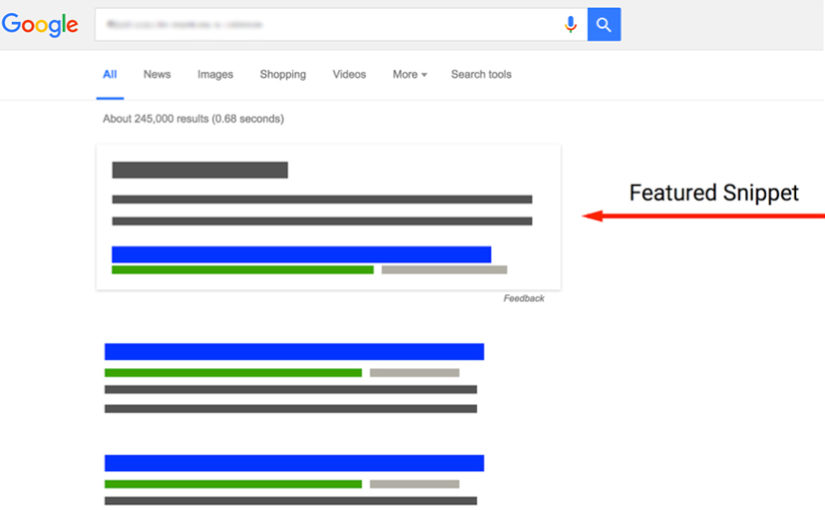 How to Rank Higher Than Organic Search with Google's Featured Snippets
Nestled neatly between ad listings at the top of SERP's and organic search, we see the highly visible "Featured Snippets" box. These "answer boxes" are Googles attempt to immediately explain a user's question. Paragraphs shown in "Featured Snippets" usually have 40-70 words and answer the how, why, when, who, have and with what article/post title question.
This is the sweet spot for any brand. You are above the first position in the organic search results bringing massive brand exposure for the business. You also get "direct answers" where Google might answer a simple question like "what is the conversion rate of Dollar to Euro" from its knowledge base or trusted information source.
Featured snippets are always drawn from a third party site and provide the webpage link and often an image or video. Google loves using lists for this feature. In a case study by Ben Goodsell from Search EngineLand, he discovered that the click-through-rate of a webpage, highlighted in featured snippets, rose from 2%- 8% with a 677% revenue increase from organic traffic.
So how do you go about ranking higher than position one on SERPs?
It is important to structure your content in a series of short paragraphs that answer a particular question. If you can stick to the average length of 40-50 words for your answer, it will look clear and concise when used for a featured snippet. Subheadings can efficiently be used for posing questions that are then answered in the content below –preferably no longer than one paragraph, and always be factual.
The Google bots might reformat your post, and it could end up being a summary of the entire article. It is therefore essential that your content is organized with headings, subheadings, short paragraphs, and lists, so it is easy to extract the relevant information.
Do featured snippets require keyword research?
You can do a bit of reconnaissance on your competitor's to see what keywords they are ranking for which get them a featured snippet.
There is also overwhelming evidence that suggests that long-tail keywords trigger featured snippets. If a user types many words into the search field, chances are they will be rewarded with a featured snippet answer box.
Currently, Serpstat is the go-to resource for finding these keywords along with the usual info on traffic volume and keyword difficulty. You can find out precisely which keyword queries trigger featured snippets. You can also enter your competitor into Serpstat, and you will be able to see which keywords they are using that result in featured snippet boxes.
The "People also ask" section is additionally a great resource to uncover keyword options. This box comes up under the featured snippets section and is a mine of usable information.
Does the use of high-quality images and video's result in a featured snippet?
Most definitely! When you use video and image to assist with telling your "story," you are making the overall content more digestible for the reader. A featured snippet frequently includes a visual. You cannot tell Google which image to use so you will need to make sure all of them are of high quality and speak to the overall message you are trying to convey.
What are the types of featured snippets?
Google likes to present featured snippets in three ways:
Text-based paragraph (81.95% according to Getstat)
In a list (10.77%)
In a Table (7.28%)
Can anyone qualify for a featured snippet?
At the moment featured snippets are drawn from pages that are already ranking in the top 10 on SERPs for the related search query. Ahrefs research puts this figure at 99.58%. Getstat's study revealed that search queries about health, financial topics, mathematics, requirements, status, transitional and DIY processes get the highest number of featured snippet results.
If you have a goal to see your webpages rank higher on SERPs and also trigger Featured Snippets, please give us a call today. 281-650-9543 Our team of experts is well versed in the art of SEO, and we thrive on new challenges.